We all know that about 80% of diseases are waterborne, so it is very important to check if the water we drink is a potable or not. And whether it can be checked by Android phone ? Yes, Bangalore based "Foundation for Environment Monitoring" institute has created a mobile based application that can test your drinking water in a few minutes.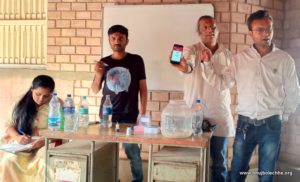 Mr. Samuel Rajkumar and Mr. Guruprasad from FEM organization had come to Bhuj for training the ACT organizations' "Bhujal Jankars" -barefoot water engineers trained by ACT – to teach them to use mobile based application to test quality of water. A demonstration was held at the Urban SETU office in Bhuj with the intention of awaring this application to HIC young professionals and ward committee members . Citizens from various wards of Bhuj brought water samples including Bore-wells, bottled water, R.O. in homes and Narmada water supply by the municipality. Each kit has the capacity to test 18 different parameter out of which 3 main parameters of potable water i.e. pH, Floride and Iron were tested. The test, which usually takes days to do in the laboratory, shown the results in few minutes through this application. Mr. Samuel, who is trained as a programmer and developed this application, said that the work of developing this application was started in 2012 and yet still today they are trying to make kit economical and more accurate. They are also trying to get government certification for the testing kit.
When all the samples were tested, Narmada water supplied in the city was found potable in all the parameters. The bore-well water from ward no. 2 had almost double the permissible fluoride contents which causes yellowing of teeth, digestive diseases and many more. Hence, this application, which operates through mobile cameras and flash lights, was found useful for testing water quality.