Since the economy of the country as a whole and the district of Kutch has improved after the 2001 earthquake, there has been a steady increase of migrants, particularly in the construction and industries sectors. The conditions in which they live and work are pathetic. Despite their contribution to the city, they have no social security, education, health facilities for their children and family. One can easily see the poor condition in which they live along the major roads in the city. I felt that the city, the construction industry, and public authorities must do something for making their lives better as they work and help build our city for us.
The following initiatives have been taken in this direction:
My work is supported by Urban Setu, Hunnarshala Foundation and Aajivika Bureau.
STATUS OF MIGRANTS IN THE BHUJ CITY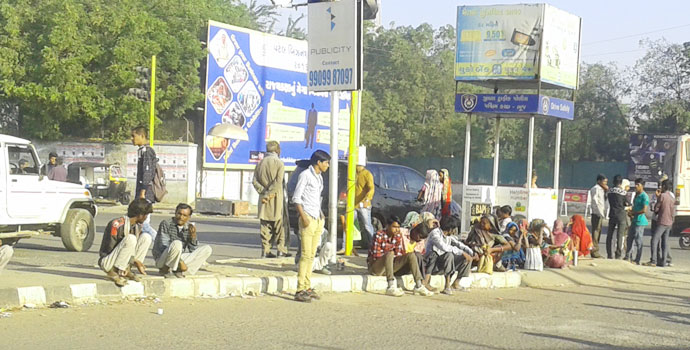 NATIONAL URBAN LIVELIHOOD MISSION AND SHELTER FOR URBAN HOMELESS
The National Urban Livelihood Mission (NULM) aims to provide shelter equipped with essential services to the urban homeless. The shelter will also provide a single window system to register them, and link them with social and economic benefits.
Following activities have been carried out so far by SETU (with support from Aajeevika Bureau) and Hunnarshala in collaboration with the Municipality:
Besides shelter and basic services, their other main problems are children's care and education and keeping their earnings secure. Their children are most vulnerable to frequent migration prevents them from educating their children, thus, keeping their communities in a constant cycle of poverty and low socio-economic status. Most of the children end up working as child laborers to support their family incomes. As they do not have secure places to keep their payments, the contractors keep their money until they leave for their villages, which lead to further exploitation. Therefore, a Migrant hostel, having the following facilities is proposed for the migrants:
The hostel will be run by Sakhi Sangini, a slum women's collective in Bhuj and Manav Sewa, a charitable trust. Urban Setu will play a key role in organizing and mobilizing migrants and linking them with relevant social security schemes.
Coordination and dialogue will be made with Bhuj Municipality and Urban Development Department to approve detailed project proposal for the migrant hostel and execute the work. Efforts will begin a temporary site with basic services until the hostel is built.
In order to have adequate information about migrants, Municipality will be asked to start registering migrants living in the city.
will be started for the formation of laborers' union in Bhuj.
Organise skill up-gradation training programmes.