"Uncle, if you stop selling these plastic items, our planet will survive" School children told this to shopkeepers to stop the consumption of 'single use plastic' in Bhuj.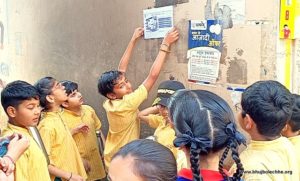 An Awareness Drive was organized by Bhuj Bole Chhe, Swaaman, Happy Faces School and Paryavaran Himayati Juth with the intention to spread awareness about stopping selling and consuming water pouches, straws, disposable items in Bhuj. Under the 'Swachh Bharat Mission', the state of Gujarathas been banned items below 50 microns such as plastic bag, polythenes, disposable (thermocol / polystyrene) . As well as a complete ban on water pouches has been declared, but still it is being sold and consumed in Bhuj. In such a situation, CSOs , public institutions, schools and environment-conscious groups have raised a public awareness on this . To spread the awareness in mass , an attempt was made by placing various posters on the walls with the consensus of shopkeepers in the area. The vendors of water pouches listened calmly to the children and assured that if the production of pouches is ceased, they would stop selling that.
The Bhuj Municipality is also providing support to this operation. Representatives of the organization and schools said that a signing campaign in large number, to stop the sale of water will also be held in Bhuj. The Bhuj Municipality also appealed to the citizens to stop using the plastic items that fall under 'Single Use Plastics' category.