A rally was organized on "World Labor Day" i.e 1st May, 2019. On this occasion, meetings were held with laborers in different areas of Bhuj, explaining them about the importance of the "Labor Day". Efforts were also made to talk to their supervis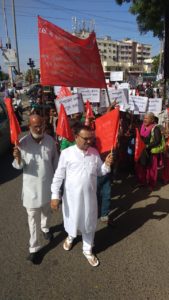 ors at their construction sites and different markets to make them aware about laborer's rights and entitlements.
Apart from CSOs, Nagar Palika and construction labor board were approached to convey message about rally. Rally started from Jubilee circle at 9 a.m and reached collector office via V.D High School, Bus Stand, Hamisar Lake, Bahumali Bhavan. A delegation of labourers met with District Collector Mr D.R Patel and submitted an application for providing primary services at sites where migrated labors are residing on urgent basis.